Food Safety Widget.
Flash Player 9 is required.
Innovative Food Defense Program Free Food Safety Seminar Series
Food emergencies of all types, including intentional food contamination, can be broken into distinct phases: prevention and preparedness, detection, response, and recovery. Though arguably one of the most important elements of food emergencies, incident recovery has historically been deemphasized and underfunded as compared to preparedness and response.
Poorly managed recoveries can lead to the closing of businesses, loss of economic productivity and employment, and perhaps most importantly, can lead to loss of consumer confidence in a commodity or the food supply in general. Additionally, the public may lose faith in the ability of food regulatory officials to ensure that products in the marketplace are safe. With unintentional foodborne illness able to cause such widespread economic and social effects, intentional incidents possess the ability to be utterly catastrophic to the safety, security and public confidence of the food supply.
With this in mind, The North Carolina Department of Agriculture & Consumer Services [NCDA&CS] Food & Drug Protection Division (FDPD) was awarded a grant under the Innovative Food Defense Program (R18) of the FDA to develop guidelines to instruct food processors how to create a remediation strategy to deal with contamination incidents in their products and facilities before such events occur. Having these contingency plans prepared is a requirement of the Food Safety Modernization Act. The Innovative Food Defense Project team has developed a draft guidance document with distinct modules addressing essential aspects of developing and implementing a remediation strategy for a food processing facility after a microbial contamination event.
NCDA&CS believes in proactive and collaborative initiatives to prevent and mitigate the impact of food emergencies on North Carolina citizens and industries. The Innovative Food Defense Project team is hosting several regional seminars throughout the state to inform local food processing firms about current good manufacturing practices, proper cleaning and sanitation considerations in addition to the development of a remediation and restoration strategy for your production facility.
Our Agenda covers:

Morning Session: 9 – 11:30 AM
Current Good Manufacturing Practices
Personnel Practices
Cleaning
Sanitary Design
Break for lunch 11:30
Afternoon Session: 1 - 3:30 PM
Remediation Strategy
- Risk Factors and Risk Communication
Characterize Incident
- Facility Characterization & Site Containment
Decontamination Analysis and Verification
Contaminated Waste Disposal
The Food and Drug Protection division of the North Carolina Department of Agriculture and Consumer Services cordially invites you to participate in our presentation and discussion of these guidelines on November 28th, 2012 at The Wayne Center. This forum is provided at no cost by the department with complimentary refreshments available.
The Wayne Center is part of the Wayne County Cooperative-Extension Office located in downtown Goldsboro, NC.
Address: 208 W Chestnut St. Goldsboro, NC 27530
Map
Here is an announcement of the event with an agenda and explanation of our projects scope. If you are interested in attending please RSVP to adam.bumgarner@ncagr.gov by Monday November the 26th so that we can make all appropriate accommodations.
Press Release: http://www.ncagr.gov/paffairs/release/2012/10-12foodprocessorseminar.htm
Germ City

The Food & Drug Protection Division's Germ City exhibit at the 2012 NC State Fair (Oct. 11-21) was a success!
The objectives of the Germ City Program are to:
Enhance awareness of the importance of hand washing using science based education for youth, adults, and older Americans preparing food in the home.
Improve effectiveness and frequency of hand washing reaching a diverse audience in rural and urban settings including children, adults, senior citizens, and at-risk population groups.
Modify attitudes, enhance personal motivation, and facilitate positive behavior change for hand washing.
Generate a data/research base to support future study and evaluate the effectiveness of hand washing education programs related to behavior change, attitudes, and personal motivation
Germ City made the NC State Fair's Deep Fried Blog. Watch a video and learn more about the exhibit here >>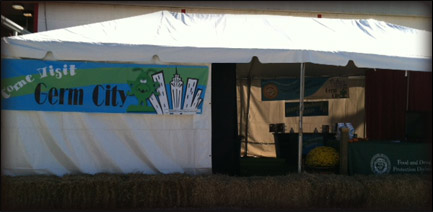 The 8th Annual Commissioner's Food Safety Forum was held on August 28th, 2012. Presenters included Dr. Ben Chapman (NC state University/NC Cooperative Extension, Dr. Liz Wagstrom (National Pork Producers Council), Bob Reinhard (Hillshire), Thomas Mack (Dole), Leanne Skelton (USDA, FDA), and NCDA&CS Commissioner Steve Troxler. A recording and presentations have been posted on the Forum site.

NCDA&CS Food and Drug Protection Division and partner agencies are committed to keeping your food supply as safe as possible. See how North Carolina State Agencies work together to regulate food safety.